KENTFIELD D-SPACE EVALUATIONS TO BEGIN
The Kentfield Fire Protection District and Central Marin Fire Department, in partnership with Marin Wildfire Prevention Authority (MWPA), will conduct defensible space and home hardening evaluations on residential properties from Greenbrae west to Kentfield and Ross's Laurel Grove neighborhood starting as early as June 23rd.
Click here to print the flyer for the Kent Woodlands/Murray Park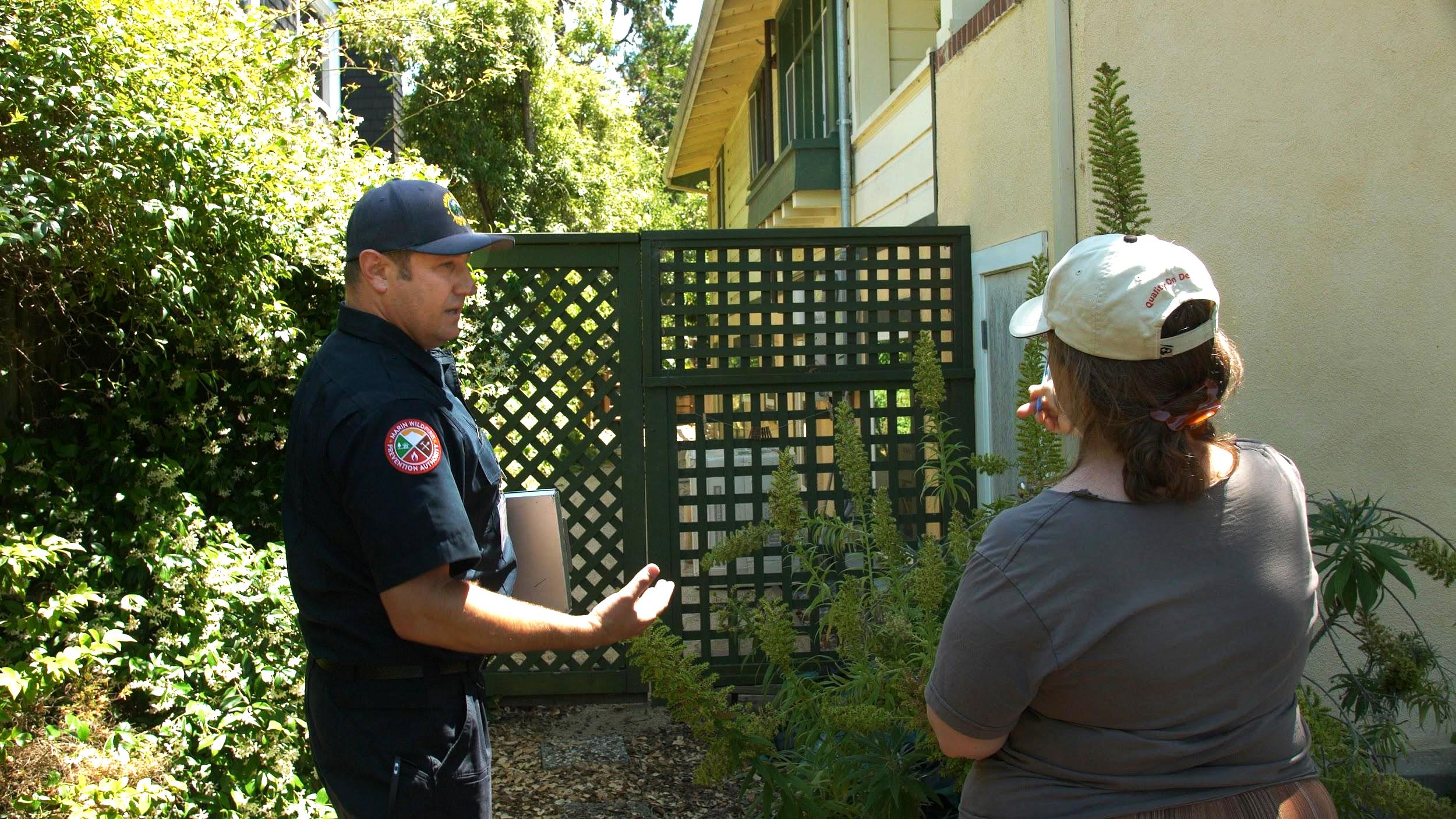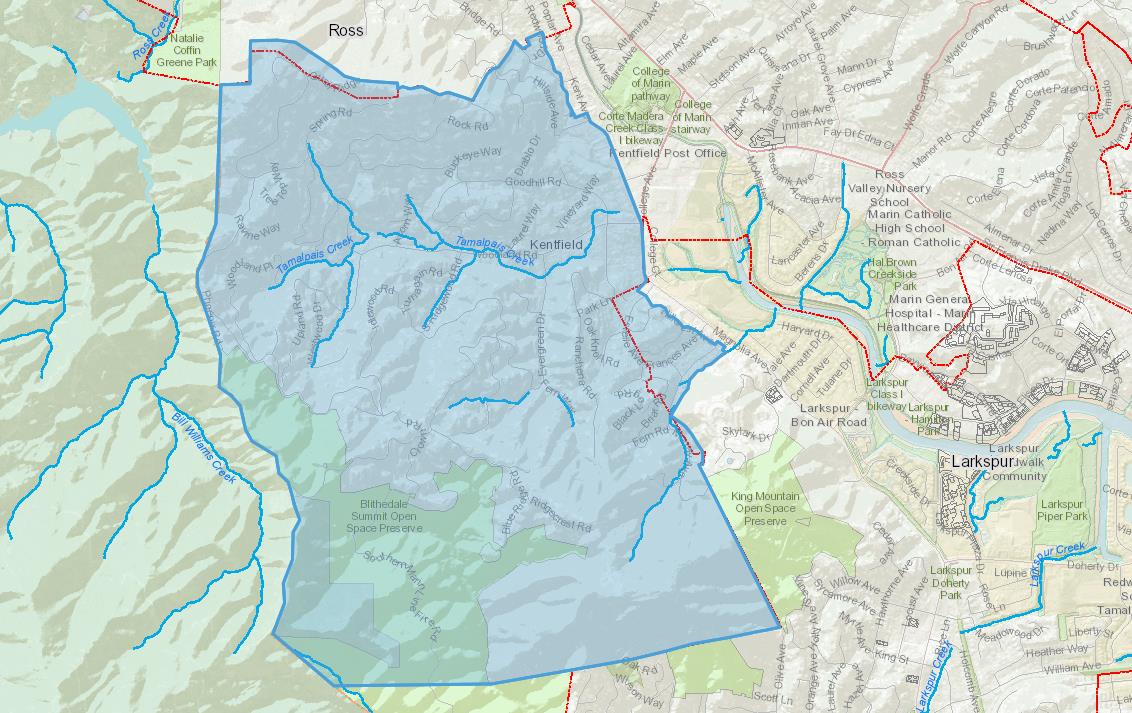 Click here to print the flyer for Greenbrae (Evaluations were completed in early July 2021).
Please contact dspace@marinwildfire.org or (415) 275-1185 with any questions about yopur evaluation or property report.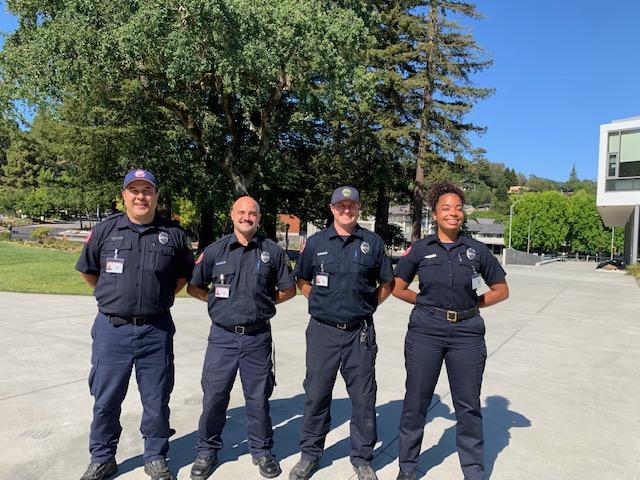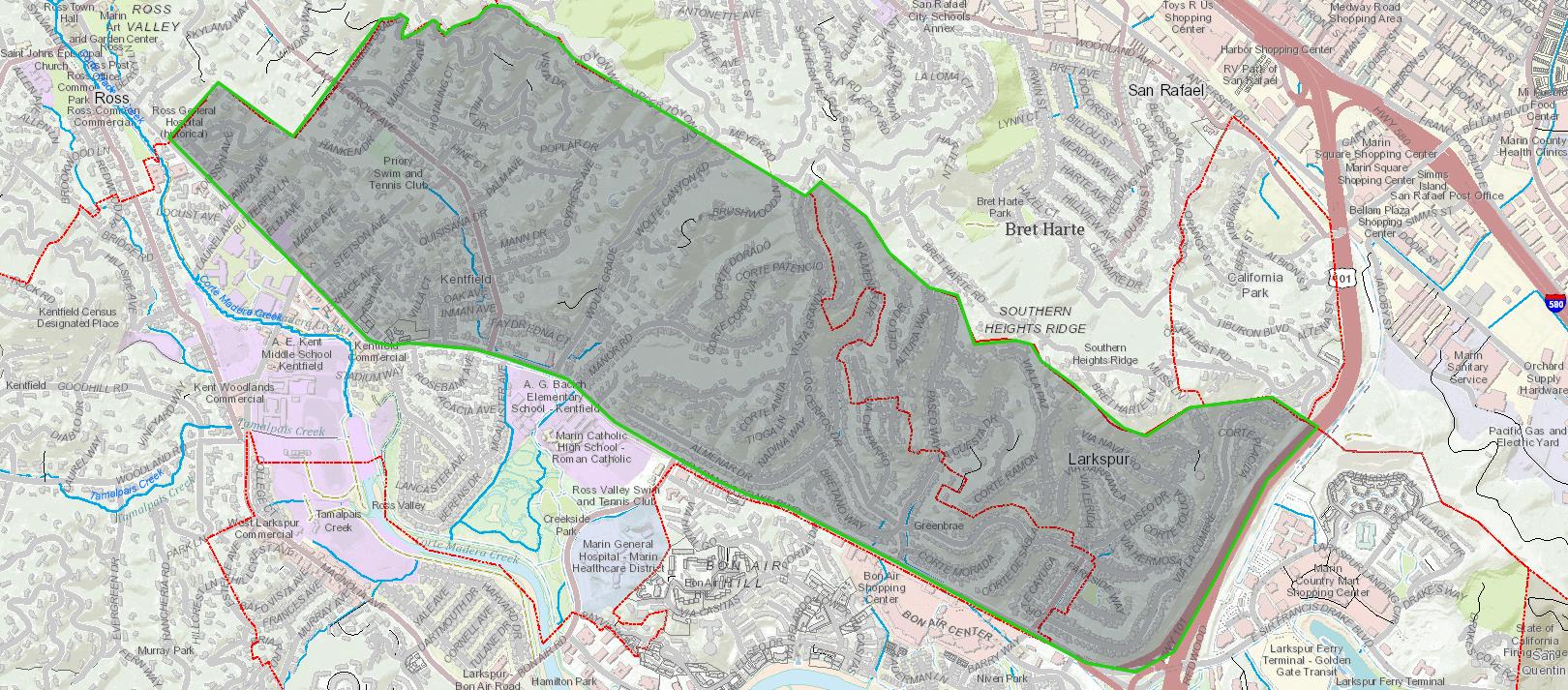 A comprehensive report for each property will be available online following the evaluation. The report will provide steps to reduce your property's vulnerability and improve your safety from wildfires. Some actions outlined in this report are required by law.
We encourage residents to accompany the Inspec2021_Greenbrae_Release2.pdftors for a socially distanced tour of their property to find areas that could be improved for defensible space and home-hardening. If nobody is home, that's okay! Inspectors will evaluate the property from the road/driveway and leave instructions to retrieve the online report.
Please contact dspace@marinwildfire.org or 415 275-1185 with any questions.
---
KENTFIELD CURBSIDE CHIPPER PROGRAM 2021
The Kentfield Fire District is happy to announce that FIRESafe MARIN, with Measure C funding from the Marin Wildfire Prevention Authority, will conduct a curbside pickup chipper program in many areas throughout Kentfield and Greenbrae in 2021.
As in years past, the curbside pickup chipper program will be available to select areas throughout the County on a rotating basis during the year. Members of the community can use the link below to see the next event for their specific address.
https://www.chipperday.com/marin
2021 Schedule of Local Chipper Dates:
Kent Woodlands Area: JUNE 14 & SEPTEMBER 13
Skylark & Murray Park: JUNE 1 & AUGUST 30
Kentfield & Greenbrae: JUNE 7 & SEPTEMBER 7
Guidelines:
With the link above you can create a reservation for your local chipper event.
Please be sure to read the terms of servicelocated on the site before creating a reservation.
The link also includes information about pile size and placement for pick-up.
Please note, piles are required to be ready at the curb by 8am Monday and will be picked up by Friday of the same week.
This is a benefit of MWPA and FIRESafe Marin to prepare for the wildfire season. These free chipper events are not intended to remove all vegetation that residents wish or need to remove. Any portion of a pile greater than 10x4x4 feet will be left behind and will become the resident's responsibility to remove. Please use the link above for more program information.
---
DEFENSIBLE SPACE EVALUATIONS 2021
Now is the time to remove hazardous vegetation and create defensible space!
As a property owner, you are responsible for maintaining your vegetation and creating defensible space on your property. You should plan on removing weeds, tall grass, brush, dead material and low hanging tree limbs that may pose a fire hazard. As a reminder, defensible space is essential to improve your home's chance of surviving a wildfire. It's the buffer you create between a building on your property and the grass, trees, shrubs, or any wildland area that surround it. This space is needed to slow or stop the spread of wildfire and it increases the resistance of your home from catching fire, either from direct flame contact or radiant heat. Defensible space is also important for the protection of the firefighters defending your home.
During the months of June through September, the Marin Wildfire Prevention Authority "MWPA", supported by local fire agencies, will begin conducting individual defensible space and home hardening evaluations in West Marin, Ross Valley, Kentfield, Larkspur, and Corte Madera. The MWPA evaluation teams, wearing proper facial coverings, will be going door-to-door requesting access to the exterior of your property to conduct a complete and comprehensive 360-degree evaluation of your home and property. The evaluations will be used to assist homeowners in making their homes and properties defensible from fire.
The evaluation teams will be evaluating whether your home currently meets wildland-urban interface "WUI" defensible space and construction requirements and will make recommendations on how to improve your homes ability to survive a wildfire.
The evaluation will also determine if your property meets the requirements for defensible space as required by the California Public Resource Code Section 4291 and the California Fire Code Section 4907.2 and 4908. Properties that are determined to be in violation of the defensible requirements may be referred to your local fire department for further action. Homeowners can choose to accompany the evaluators during the home evaluation; however, it is not required.
Due to the number of Inspections required, the Defensible Space evaluators will NOT being scheduling inspections. It is anticipated that this year's inspections will take place in June and July. If you have any questions, or would like more information about the program, please email Deputy Fire Marshal Larry Pasero at lpasero@kentfieldfire.org.
For Defensible space, home hardening and evacuation preparation information, please visit www.firesafemarin.org
---
MWPA Low-Income Senior Exemption
2021/22 Application Available Now
To qualify for an exemption from the Measure C – Marin Wildfire Prevention Authority – parcel tax, homeowners must meet the following criteria:
Owner must be 65 years old, or older, by July 1 of any applicable tax year
Property must be an owner occupied, single family residence (house, condo, townhome)
Household income is equal to or lower than the U.S. Department of Housing and Urban Development (HUD) income limits used to determine eligibility for assisted housing programs; calculated on number of people in household:
1 Person $97,600 2 People $111,550 3 People $125,500 4 People $139,400
To apply for the exemption, complete and return the form below with a copy of proof of age and income per instructions on the form: Low-Income Senior Exemption Form
Prior to mailing, please make a photocopy for your records. Please mail, fax or email the completed application with attachments to:
NBS
Attn: MWPA Parcel Tax Exemption (Measure C)
32605 Temecula Parkway, Suite 100
Temecula, CA 92592
Questions:
Email: customercare@nbsgov.com
Phone: (888) 485-9249
Your application must be postmarked by June 30, 2021.
---
SANDBAGS NOW AVAILABLE FOR RESIDENTS
The Kentfield Fire District offers free sand and sandbags for the residents of Kentfield. Sandbags are a critical tool for storm preparedness. Residents must bring a strong back and a shovel to fill the sandbags with sand (sandbags are not pre-filled). We do ask that residents only take what they plan to use for the protection of their personal property. This will enable us to continue to offer this free service.​ As a reminder, residents should clean gutters and downspouts and remove debris from drainage inlets prior to storm activity.
SAND BAG LOCATION:
COLLEGE OF MARIN PARKING LOT #15
Parking Lot #15 is located on Kent Avenue, driveway can be accessed between 139 and 145 Kent Avenue.

The sand and bags are located at the rear left corner of the lot.
ITEMS AT THE SITE:
The District has provided one shovel.

The bags are located in the storage bin.
HOW TO USE SANDBAGS:
Create a small dam or wall using sand bags to block or divert floodwater.

Sandbags should be stacked similar to a brick wall, using a staggered pattern.

Build your wall at least two bags high.
Please contact Fire Station 17 if we are short on supplies!
415-453-7464
---
COVID-19 FIRE INSPECTIONS: MODIFIED GUIDELINES CONTINUED (2021)
In an effort to protect the general public and the employees of all Marin County Fire Agencies, and reflective of the Shelter in Place Order (SIP) issued April 29, 2020 by the Health Officer of the County of Marin, requests for all non-essential fire inspections were previously suspended.
AS OF MAY 4TH 2020, THE TERM "SUSPENSION" WILL BE CHANGED TO "MODIFIED"
The intent of the MODIFICATION is to respect the county order to shelter in place, limit personal contact and exposure, and to slow the spread of COVID-19 to the maximum extent possible.
Prior to requesting an inspection, please see the attached inspection modification announcement for Shelter In Place Order requirements and PPE protocols.
Projects failing to comply with the requirements of the revised shelter in place order and its appendices may be cancelled or postponed.
Inspection appointments will be available Monday through Thursday.
Inspections will be completed within the 8 am to 1 pm window.
Inspections will be scheduled by email only. Please email lpasero@kentfieldfire.org and specify the date you would like an inspection and the type of inspection (Close-in, fire sprinkler, fire final etc).
A jobsite contact and phone number will be required. Please include the project address in the subject line.
---
Kentfield Fire Protection District is a special district formed under the authority of the California Health and Safety Code. The District has an excellent Class 1 ISO (Insurance Services Office) rating.
Twelve full-time Professional Firefighters, one full-time Fire Inspector, five Volunteer Firefighters and three Seasonal Firefighters (every fire season) are employed by the District. All District personnel are State certified to their classification and rank. The District's daily staffing is three firefighters. Available within minutes are four neighboring automatic aid engines, twenty immediate need mutual-aid engines, and eight immediate need "wildland" mutual-aid engines and four truck companies.
The District is a member of the California Inter-County Mutual-Aid Plan and the Marin County Automatic and Mutual-Aid Plan, covering emergencies and disasters such as fires, floods, mass-casualty incidents, and earthquakes. All District personnel are Hazardous Materials First Responder Certified. The Kentfield Fire Protection District provides paramedic service through the Ross Valley Paramedic Authority Joint Powers Agreement. All District personnel are Emergency Medical Technician Certified.
For the purpose of mitigating serious hazardous material incidents, the District participates in the Marin County Hazardous Materials Joint Powers Agreement. All District personnel are Hazardous Materials First Responder Certified.
All District personnel are provided with extensive structural and wildland fire fighting, rescue, medical and emergency management training in accordance with Federal, State and locally accepted standards.
The California Fire Code and Public Resource Code are adopted and enforced by the District. Annual inspections of commercial and residential occupancies are conducted.
Our Vision
Our vision is to continue excellence in fire service delivery, operationally, financially, and politically.
Our Mission
The Kentfield Fire Protection District exists to care for, protect, and serve our communities
Values
Excellence: Consistently deliver the highest-quality service.
Integrity: We do the right thing, even when it's difficult, to preserve honesty.
Empathy: Build relationships on respect and compassion.
Innovation: Foster an environment of original thought.
Our Guiding Principles
We are committed to the protection of life, property and the environment.
We believe that our communities are the reason for our existence.
We will foster and sustain the trust of our communities and each other, while also protecting that confidence through our attitude, conduct, and actions.
We will serve our communities with honesty, fairness, and integrity.
We will pursue safe, effective, timely, economical, and measurable solutions.
We will consistently provide professional, skilled, and compassionate customer service.
We will be sensitive to the changing needs of our communities.
District Boundary