District News
Kentfield Fire Protection District News and Announcements
Firefighter's Out of County Experience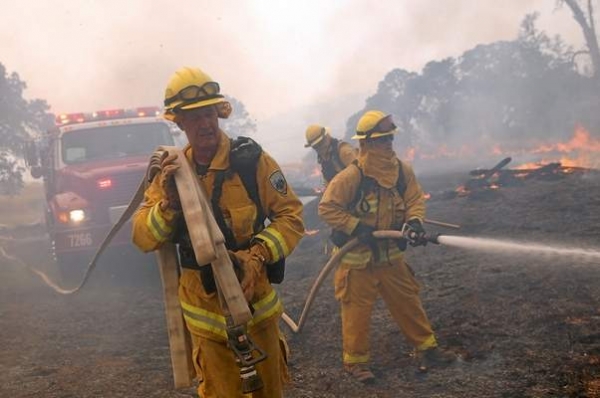 As a new seasonal firefighter with Kentfield Fire District, I was really looking forward to my first out of county assignment on our O.E.S. engine. For months and months we had been training for the day we would be needed. The call to leave came in around 11:00 pm, shortly after we got to bed. It was time to get up, load up the engine, and head to Lake County; the first of many sleepless nights.
We met our strike team and drove through the night. By morning we were in place and ready to get to work.  Because of the lack of available resources for the incident, we were given a working assignment immediately.  We saw a lot of extreme fire activity and were assigned to protect homes from the approaching fire. We worked hard and did everything we could to save as much property as possible.
We spent a week in Lake County before getting re-assigned to Trinity.  Our assignments here were varied: some days we were flowing water and working alongside bulldozers, we assisted the public in getting their homes ready for the approaching fire, and other times we offered advice and helped wherever we could. There was always something to do. Our shift officer had been so diligent in keeping up with our training ahead of time there wasn't anything we weren't prepared for.
As a new firefighter I was really fortunate to work with the crew from C shift. They are seasoned veterans and really know their craft. They never complained or seemed to get tired; they were always willing to do whatever was needed to be done. They knew what to expect and were well prepared for anything that might come our way. Our crew maintained the same professionalism that is shown on a daily basis in Kentfield. It speaks to the quality of the organization when its members can maintain such a high standard after weeks of hard work and little rest.
We were always treated very well at base camp. It is amazing how fast these miniature cities can be put up and take care of thousands of firefighters. We had everything we needed there: plenty of food, showers, laundry service, and medical care. It's amazing how such basic things feel like such luxuries when you're exhausted and haven't slept much. The staff at basecamp really went out of their way to make sure we had everything we needed to get resupplied and back to work. One thing that was consistent wherever we were was the support from the communities.Everywhere we went we would see handmade signs along the road thanking us for our work. Several times we had strangers come up to us just to say thank you and how much they appreciated us. We even received several handmade thank you cards from the local kids. After some of those long sleepless nights it really kept us motivated and reminded us of why we were there.
After being gone for a couple of weeks I was looking forward to coming home.  I missed my wife and son. It's pretty hard to be away from your family; you miss the comfort of a home cooked meal and sleeping in your own bed at night. I would never have been able to go without the support of my families at home and at the Kentfield Fire District. It was a great opportunity; I'm very thankful to have been a part of this strike team and help a community in need.